BMW LA wheel Star Spoke 660 — 19''
BMW 225d F22
Coupe Europe
B47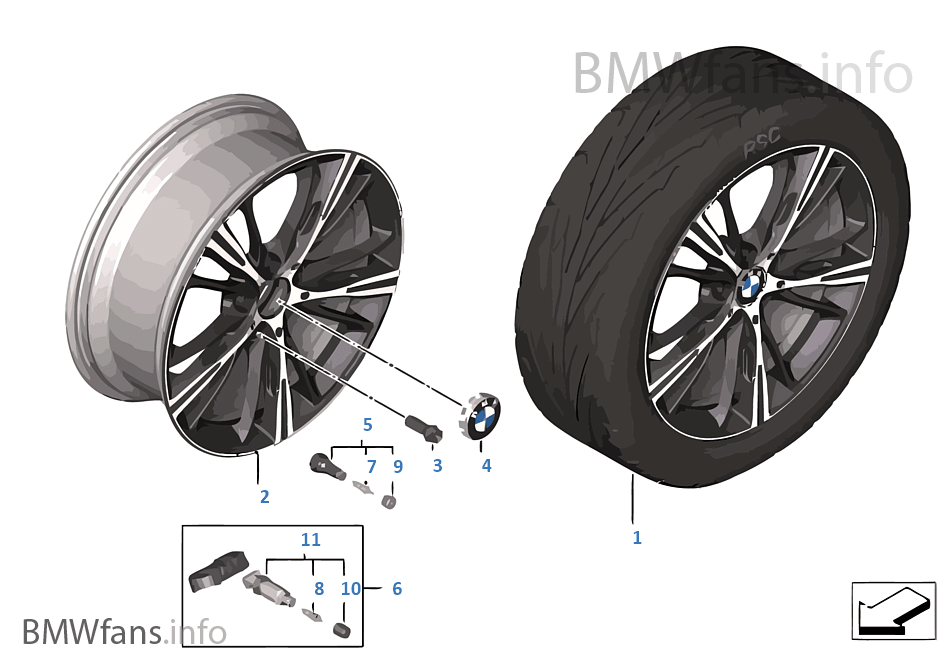 Supplement
Notice: Only for vehicles with EG-BE approval. Official entry In the registration documents may be Required for The wheel and tire set under some Conditions. Please check vehicle CoC to determine Whether An official approval entry for the Wheel and tire Combination is present. If this is not The case it May be necessary to obtain post-factory Field approval Sanctioning use in the specific Country!!
For vehicles with
National version japan (
L807A
)
= No
And
National version China (
L8AAA
)
= No
And
19" LMR Sternspeiche 660 (
SZVXA
)
= Yes
#
Description
Partnumber
Supplement
Date

Quantity

Weight
Price

USD

RDCi tire&wheel, summer, Orbitgrey

1

from Mar '14
1
Tire & wheel set, summer, Orbitgrey

1

1
Gloss-turned light alloy rim

2

2

2

2
Wheel bolt black

3

20
Wheel center cap with chrome ring

4

4
Rubber valve

5

4
Wheel electr. module RDCi w/ screw valve

6

from Mar '14 to Nov '16
4
Valve

7

4
Valve insert for RDCi

8

from Mar '14
4
Valve caps

9

4
Valve cap for RDCi

10

from Mar '14
4
Rep. kit, screw valve for RDCi

11

from Mar '14 to Nov '16
4
The contents of the BMW parts & accessories catalog provided for acquaintance purposes only.
Part numbers, descriptions, prices and applicability information have been obtained from public sources on the Internet. We are not responsible for any data inconsistency and possible inconvenience caused. Contact your local parts supplier to get precise information about parts.